Enhance Your Commercial Space With Our Concrete Floor Polishing
Are you looking for an easy way to improve the aesthetics of your commercial space? As a manager, you have to be on top of all the upgrades your business might need, including enhancing your floors. However, looking for solutions can be very stressful. That's when concrete floor polishing comes in! It will make your space stand out, and your floor will last longer. 
At Reliance Concrete Polishing, we provide this service for industrial and commercial spaces so they can withstand the test of time. Our professional technicians use premium products and specialized techniques to restore old surfaces and make them visually appealing, giving new life to any area. Call us to learn more!
Why Get
Concrete Polishing
?
We understand the importance of ensuring your commercial space looks great, which is why we offer concrete floor polishing services. This process makes the floor more resistant to abrasion, impact, and heavy foot traffic to withstand the rigors of a commercial or industrial setting. That way, you can get the aesthetically pleasing and resistant floor your business deserves.
Learn About Our Top 5 Projects
Going for a project like polished concrete floors can be complicated if you haven't seen the results before. That's why we would like to show you our top 5 projects so you can better understand what your commercial space would look like.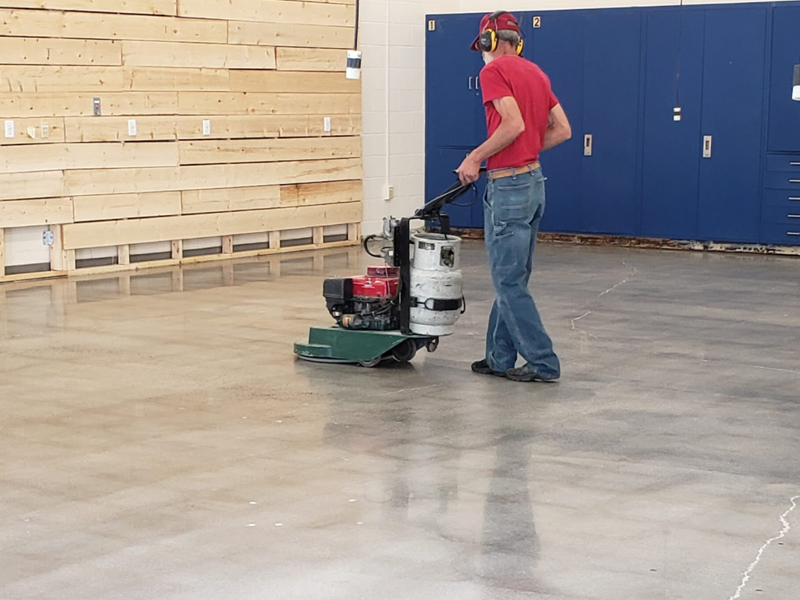 1. Walmart Distribution Center
Our company partnered with Walmart to work at their retailers' large distribution center in Raymond, New Hampshire. We polished and burnished various truck bays, a hallway, and the center's breakroom to achieve a shiny and flawless look.
2. Amherst Machine Shop
When we started this project, the floor had multiple layers of epoxy and paint, which we removed to reach the bare floor. Then, we did a full warehouse polish and burnish to enhance the look and durability of the floor. In the end, this 10,000 square ft space looked great.
3. Sig Sauer Academy
The Academy, located in Epping, New Hampshire, needed some help with their facility's indoor floors. We worked on the new indoor pistol and rifle range to provide a look that meets the institution's standards. 
4. Atomic Coffee Roasters
We were proud to help this company with its new coffee roasting facility in Peabody. We worked in their 10,000 square ft space removing VCT tiles and preparing the floor for industrial use. We applied a warehouse polish and a burnish to deliver impeccable results that met our client's deadline.
5. Aircraft Hangar
We worked on a 12,000-square-foot airplane hangar in Nashua, NH, to remove the epoxy on the slab. After removing 1700 lbs, we finally reached clean concrete and applied a new coat to protect the floor. 
Make Your Business' Floor Stand Out And Last Longer
Business managers often face the stressful scenario of dealing with a damaged or bare concrete floor. Looking for the best solution can be a lot of work, but with Reliance Concrete Polishing, you can make amazing upgrades. We specialize in concrete floor finishes to make your space stand out and last longer. The process is really easy; just follow these steps to get started:
Call or email our company.

Tell us about your polishing needs.

Get a free estimate to start the project.
We understand that improving any commercial space can be daunting, but with the right resources and a great team of professionals, the results will always be amazing. Don't let your floors unattended since you could face future damages or pay for repairs. Get in touch with Reliance Concrete Polishing today, and get started on upgrading your commercial space!