Concrete Polishing For Manufacturing Plants
Concrete polishing is important in creating safe, durable, and aesthetically pleasing environments for manufacturing plants. This process involves grinding and sealing the concrete surface to create a smooth finish resistant to wear and tear. The result is an attractive surface with a glossy sheen that lasts years. Polished concrete also provides superior safety, as it is slip-resistant and provides better ground visibility.
If you want to reduce potential tripping hazards in your busy manufacturing environment, Reliance Concrete Polishing can help. We understand the relevance of having clean and easier-to-maintain floors. That is why we provide quality concrete polishing services that meet the highest safety and durability standards. Our experienced technicians can help you create a smooth, glossy finish with minimal effort. You deserve efficient solutions without worrying about quality or your safety.
Benefits Of Working With Experts On The Field
At Reliance Concrete Polishing, we strive to exceed customer expectations by providing high-quality concrete polishing services tailored to meet the specific needs of every customer. We understand that no two projects are alike, so our team works with you to create a plan considering your budget, timeline, and desired outcome. 
Forget about long trips trying to  find a concrete polishing expert. We offer our services to the areas of Peabody, Lpswich, and Salem, MA, so you can find us near you.  Our team is highly experienced in both residential and commercial projects. We have the expertise and equipment to ensure that all surfaces look beautiful and resistant to wear and tear.
Top Reasons You Should Choose Concrete Polishing
Enhanced durability and resistance to heavy machinery, foot traffic, and chemical spills.

Improved safety with increased slip resistance and the ability to create marked walkways and designated work zones.

Reduced downtime due to easy maintenance and cleaning.

Enhance the overall image of the facility.

Reduced costs associated with maintenance and repairs due to its hard-wearing nature.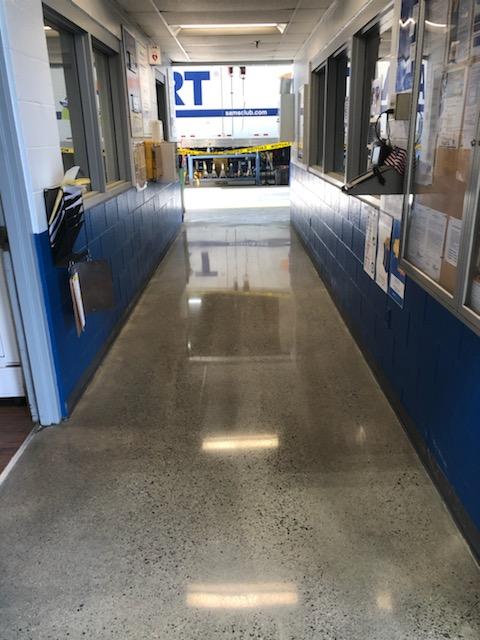 Follow These Three Steps & Get Your Concrete Polished Today!
Step 1:
Contact us at Reliance Concrete Polishing for a professional consultation and quote.
Step 2:
Our experienced team will work with you to create a personalized plan that meets your needs.
Step 3:
We'll use the highest-grade equipment to ensure your manufacturing facility's beautiful, long-lasting finish.
Enjoy The Benefits Of A Polished Concrete Floor
At Reliance Concrete Polishing, we understand that manufacturing plants usually have tight budgets and deadlines. That's why we aim to provide high-quality services at a competitive price. With our experience and top-of-the-line equipment, you can be sure that your floors will look great for years to come. Avoid working with inexperienced contractors who will compromise on safety and quality.
Working with experts like us, you can trust there won't be any delays, hidden fees, or sub-par results. Send us a message to learn more about our concrete polishing services and get your finished concrete  floor quickly.