Concrete Polishing: Environmentally Friendly Flooring Solution For Commercial Buildings
As commercial buildings become increasingly energy efficient and environmentally conscious, so should their flooring solutions. By selecting flooring products that are made with renewable materials and have minimal impact on the environment during production and installation, companies can demonstrate their commitment to sustainability. Reliance Concrete Polishing offers a wide range of flooring solutions that are perfect for your building. We understand that sustainability is important.
That's why we specialize in concrete polishing – a flooring method that involves grinding and refinishing existing concrete surfaces. We can help you reduce carbon footprints and cut down on the use of non-renewable resources. Our process creates an attractive, durable finish and extends the life of your concrete floors, reducing the need for frequent replacement or repair. Avoid the stress of looking for professionals, and hire us! We'll provide you with the efficient solutions you deserve!
Perks Of Using
Concrete Polishing
For Your Commercial Building
At Reliance Concrete Polishing, we take immense pride in our expertise and experience. We've been providing customers with superior-quality concrete floors for many years now. Some of our previous projects include the Walmart distribution center in California, a restaurant space in Pennsylvania, and a residential condo complex in Florida.
Not only do polished concrete floors require minimal input of raw materials, but it also provides superior results. Here are some of the benefits and advantages that come with using our concrete flooring solutions:
Reduced consumption of non-renewable resources.

No hazardous waste is produced during production or installation. 

Increased light reflection and reduced electric lighting bills.

Dust reduction and mold resistance for a healthier environment.

Improved durability with virtually no maintenance required. 

Avoidance of harmful volatile organic compounds (VOCs)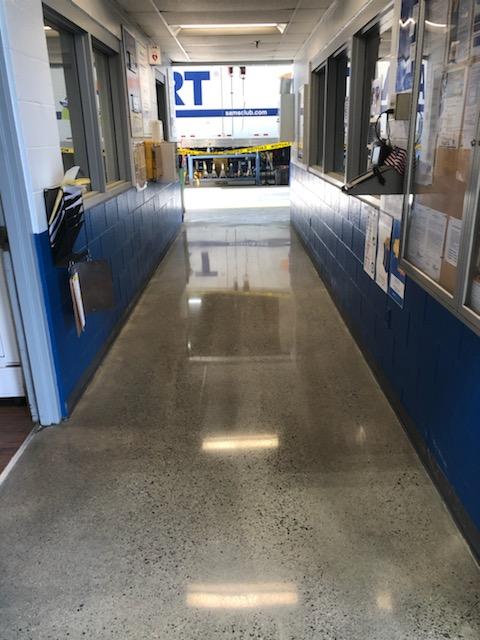 Start Your Journey Of Being Eco Friendly
At Reliance Concrete Polishing, our work is one of the most important elements for making commercial buildings more sustainable. We take customer satisfaction seriously and offer various services to meet your needs. From concrete grinding and polishing to sealers and coatings, you can be sure our products will give your building the perfect finish. Do the following to get started:
Step 1:
Contact us and discuss your requirements in detail.
Step 2:
Get a free quote for the services you need. Once we've received your approval, our team of experienced professionals will prepare and polish your concrete floors.
Step 3:
Enjoy the beautiful results of your eco-friendly flooring solution.
Ready To Make Your Commercial Building Eco-Friendly?
Stop wasting your time dealing with unreliable contractors interrupting your daily operations and making you overspend. Choose Reliance Concrete Polishing and get the most competitive prices and superior results you deserve.
Our eco-friendly polishing process uses specially formulated diamond tools and sealers that produce a smooth, glossy finish and help protect your floors from wear and tear. Whether you're looking for a durable finish for your entrance lobby or slip-resistant flooring for the kitchen, we have it all!